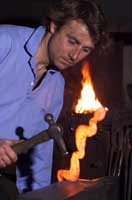 Established in 1988 by master blacksmith Paul Elliott FWCB (pictured right), who
heads a team of qualified Artist Blacksmiths in a large well equipped forge and
gallery/shop situated in the picturesque village of Aldbury.
Hammer and Tongs work on commissions of any size with individual clients,
architects, designers, public art bodies, councils, local authorities, corporations or
religious organisations to ensure all work reflects the clients wishes and is in harmony
with it's surroundings. All work is completed within a given time scale.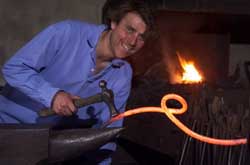 Paul and his team at Hammer & Tongs
have the traditional skills to hand
forge hot metal, which produces pieces
with a powerful sense of structure, perspective, and a richness
of character and surface.